We must adjust to the changes in the NFL to be successful! Scoring averages increased the last 5 years and this years defensive rule changes make for many more penalties and game delays. Scoring will be higher on average. Most pro's will have a hard time adjusting to how they defend a receiver. Handicapping a game can also be affected and if you think you want to try the first few weeks on your own method, GOOD LUCK! Most look for help after the 3rd or 4th week and by the time you make the purchase for advice and a package. Depending on your purchase cost for a package it can be weeks or a month or two before you finally get to your starting point. My service cost have not changed in 9 years and is the lowest in the industry by far. Those that will look for help after 3 -4 weeks of no-profit will not take weeks or months to get back even with this handicapper. Contact me for a very special introductory offer that will include an all access package and my personal cell phone number. Get the NFL, NCAAF, NCAAB, NBA and the NHL. Save Big for less than you might lay on any event. Contact me @ samswins@aol.com. I will only give you what you ask for and not send you email after email. I do not do that. I respect your privacy.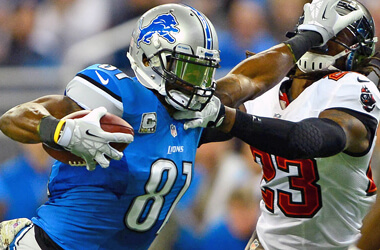 A LOOK AT THE NFL EXTRA PAGE GIVES CURRENT ODDS FOR THE SUPER BOWL!!! PLUS TOP PLAYS AND COVERS FOR THE NFL SEASON!
LINES & TOTALS UPDATED AS OF 08/26

Thursday, Sept. 4, 2014

Green Bay
Seattle -5.5 (45.5)

Sunday, Sept. 7, 2014

New Orleans-2 (52.5)
Atlanta

Minnesota
St. Louis -6 (45)

Cleveland
Pittsburgh -6.5 (41)

Jacksonville
Philadelphia -10 (52.5)

Oakland
N.Y. Jets -4.5 (40)

Cincinnati
Baltimore -2.5 (43)

Buffalo
Chicago -6.5 (49)

Washington
Houston -2.5 (46)

Tennessee -4.5 (44)

New England -4.5 (47.5)
Miami

Carolina -1 (40)
Tampa Bay

San Francisco -6 (50)
Dallas

Indianapolis
Denver -7 (56)

Monday, Sept. 8, 2014

New York Giants
Detroit -4 (47)

San Diego
Arizona -3.5 (44)

Verified by CapperTek on 12-30-2013
Check out the Guarantee on the PAY-AFTER-U-WIN PAGE!!!!! ON THE EXTRA PAGES LINK.
The NCAAB Extra Page has been updated as of 01/19!
The NCAAF Extra Page has been updated with current odds on next years Championship! As of 01/19.
My Nephew Daniel Eaton and his partner did not make the Olympics this year is the pairs skating competition. However, they are in Taipei competiting in the Four Continents competition. They came in third place. My family believe that in the next winter olympics they will be competiting. The link http://youtu.be/j9ste_cu7rc is the latest of their performance in Taipei.
Why we love Football!
CHECK OUT THE NCAAB NEWS PAGE ON THE MORE PAGES LINK: THE TOP 25 IN COLLEGE BASKETBALL ARE LISTED: YOU NEED NOT BE A SERVICE MEMBER TO READ THE EXTRA PAGES:
Visit California Anytime? Check out the blacksheep casino in
Cameron Park, Ca. Ask for Noel Paulson and tell him I sent you. Visit the web site at www.blacksheepcasino.com